Calle García Morato, 41
03004

contact information
Proyecto Español is a language school specialising in Spanish for foreigners, with four centres in Spain. Its aim is to combine the teaching with a leisure programme that succeeds in covering students' expectations at affordable prices. Its methodology is based on the automatic use of the language, as well as on the direct contact of the teacher with pupils and their approach to Spanish culture.
Information about the school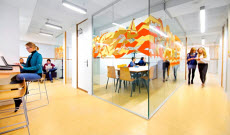 In addition to numerous leisure activities, its Conversation Exchange Program helps to know Spain outside the classroom, with experiences on the way of life of the Spaniards, customs, slang, etc.
The school is located in the centre of the city of Alicante, behind the Central Market. It has spacious and air-conditioned rooms, distinguished by its friendly atmosphere and excellent technical equipment, prerequisites for effective learning. Students have computers for free internet access and a library loan service. Since 2003, Proyecto Español is a centre accredited by the Instituto Cervantes. It was the first language school in Alicante to exceed the quality test of this Institution.
Their team consists of qualified Spanish-speaking teachers who are experienced in dealing with foreign students. Their motivation and enthusiasm spread to the group immediately, allowing them to be immersed in Spanish language and culture in a cordial and creative atmosphere.
Tourist Area: Costa Blanca.
Location: downtown. Urban.
Languages: Spanish, English, Italian, German and French.
Activities: Tourism, leisure and sports.
Information about the course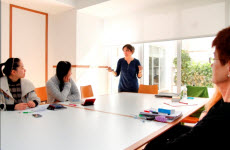 Courses are run with reduced group sizes, from three to ten pupils, Mondays to Fridays, in 50-minute sessions.
Standard course of 15 hours a week: a course lasts a minimum of two weeks.
Intensive course of 25 hours.
Super-intensive course (25+5): after the intensive course of five hours a day in a group, there is one hour of individual tuition.
Long courses: the course lasts a minimum of twelve weeks.
Long courses (25+5).
DELE preparation course of 30 hours: on this course students are prepared for the Diploma in Spanish as a Foreign Language of the Instituto Cervantes.
Teachers' course of 25 hours: this course is designed for teachers of Spanish wishing to improve their level and at the same time improve their teaching skills.
Combined courses: it is possible to do one part of the course in one city and follow the same programme in another.
Individual lessons and special courses: individual monographic lessons in the desired field, like business or legal Spanish, history of art, etc. Bespoke courses are also arranged for groups.
Information about accommodation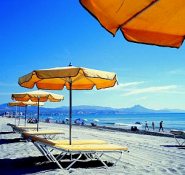 Apartments: with this type of accommodation you can enjoy a room in a shared apartment with fully equipped kitchen, bathroom, and living room.
Families: accommodation in a Spanish family offers the opportunity to strengthen your language skills in a family atmosphere and establish a more direct contact with the local culture. You can choose between half or full board.
Hotel: the school can provide hotel accommodation. Saturday is the official exchange day on accommodations. In case of apartment accommodation, the keys are deposited to be collected at any time from 2h am on Saturday, throughout the weekend. If the student comes before Saturday, they can enter their room depending on the availability.
School provides a pick up at the airport and transfer to accommodation.
Information about the activities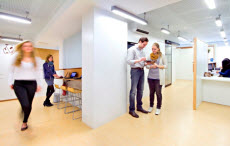 Proyecto Español offers numerous excursions and activities, so that its pupils have access to the natural world, life and culture of Alicante and its environs. Moreover, the school is very receptive to students' suggestions when it comes to arranging excursions or trips on the spur of the moment.
Information about certificates
Instituto Cervantes (Spain)
Bildungsurlaub (Germany)
CSN (Sweden)
AMEELE (Spain)
FEDELE (Spain)