C/ Guadassuar, 6
03202

contact information
Top School in Spain is a professional school specialized in teaching Spanish for Overseas Students, located in the heart of the vibrant university city of Elche, just 15 minutes from Alicante airport. Our school is placed in a strategic point of the city, just 10 minutes walk from the historic center, next to the bus station, opposite the university and close to the train station. The prime location of the city, located on the Mediterranean coast, boasts an excellent climate throughout the year, with over 300 days of sunshine a year and mild winters.
Information about the school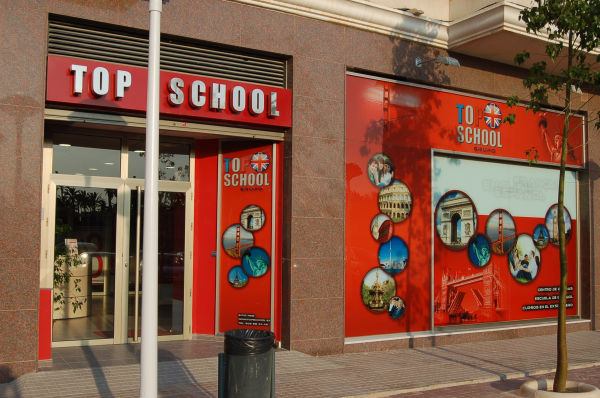 Would you like to learn Spanish quickly and easily in a relaxed, family-style environment? At our school, we offer a wide range of Spanish courses which are tailored to suit your needs and requirements. Moreover, we provide our students with ample choice when deciding upon accommodation and extra-curricular activities. Our aim, thus, is to ensure your stay in Elche will be an unforgettable one.
Because we are a small, family-run school we are very flexible and we always strive to adapt to the needs of our agents and students.
Our premises have been designed with a view to maximising learning and communication in Spanish. We pride ourselves on the warm, friendly atmosphere we have created at the school. Top School is situated on a pedestrian street, with ample space to enjoy a moment's break in between or at the end of classes.
Classrooms
· We have 7 air-conditioned classrooms, fully-equipped with all the teaching and audiovisual equipment necessary to ensure real, effective Spanish learning takes place.
· There is also an additional school at our disposal, in the city centre, where there are a further 6 classrooms should we need to use at any point.
· Interactive whiteboards have been installed in 4 of our classrooms, with further installations pending.
Library
We offer our students a borrowing service with a wide selection of contemporary learning material and media to practise and develop different language skills. All the material is organised and classified into 6 levels (A1-C2), as stated in the Common European Framework of Reference for Languages (CEFR) and the Instituto Cervantes Curriculum Plan (PCIC), so that students find it easy to choose the appropriate material for their level.
For those students who may wish to take an official, Instituto Cervantes exam (a recognised qualification in Spanish), we have a collection of past papers at our disposal which they can practise on so that, on the day of the exam, they feel well-prepared and ready to succeed..
Other facilities and services
· Modern premises, adapted according to Spanish legal requirements to provide access to disabled people
· A staff room where students can discuss doubts and queries with the teacher
· Spacious reception area with vending machines where students can grab a quick snack before or after class
· Free Internet access/Wi-Fi connection
· Accommodation service
· Airport transfer service
· Activity programme designed to complement our language courses, ensuring the students have fun both during and after class
· Other language courses: English, French, German, Italian, Portuguese and Russian.
Information about the course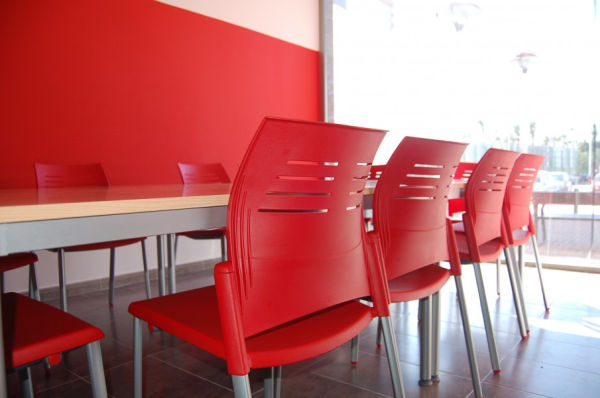 Since it is known that not everybody learns in the same way, Top School in Spain offers Spanish courses to cater for all needs. Courses for adults, where they can choose the pace at which they wish to learn, and courses for youngsters, adapted to suit their needs and which combine a wide variety of activities to keep them interested. The idea is for them to put what they learn in class into practice in real-life situations.
In order to ensure the best teaching and personalised attention, our classes are always taught in groups of a maximum of 10 students.
Adult courses
· Intensive 20: 20 group lessons of 50 minutes per week of General Spanish.
· Superintensive 30: 30 group lessons of 50 minutes per week of General Spanish.
· Combi 20 + 5: A combination of our "Intensive 20" course and 5 individual lessons per week totally adapted to suit the student's needs.
· Combi 20 + 10: A combination of our "Intensive 20" course and 10 individual lessons per week totally adapted to suit the student's needs.
· DELE preparation: A combination of 20 group lessons of General Spanish and 10 lessons per week of specific preparation for the DELE exam.
· One-to-one: We have several one-to-one lesson packs aimed at those students looking for fully customised classes or at those who do not wish to join a group.
Junior courses
· Immersion in a Spanish high school: The perfect course for a full immersion in the Spanish language! Students are integrated into the classes in a Spanish high school, together with other Spanish students. They also receive an extra daily hour of Spanish as a Foreign Language at Top School and stay with Spanish host families.
· Academic year in a public high school: Same as our "Immersion in a Spanish high school" course for stays over 12 weeks. This programme does not include the extra hour of Spanish at Top School, as for such long stays it is usually not necessary.
· Summer programme for teenagers: The perfect combination of Spanish classes, activities and accommodation to make the most of the summer in Spain! 15 hours per week of Spanish as a Foreign Language + summer activities and excursions + homestay accommodation.
· Mini stays: Fully tailor-made programmes with Spanish classes + activities + accommodation, designed to suit the needs and desires of our groups.
· Work experience: The perfect programme for those students who wish to practice their Spanish while experiencing their first contact with the labour market.
Information about accommodation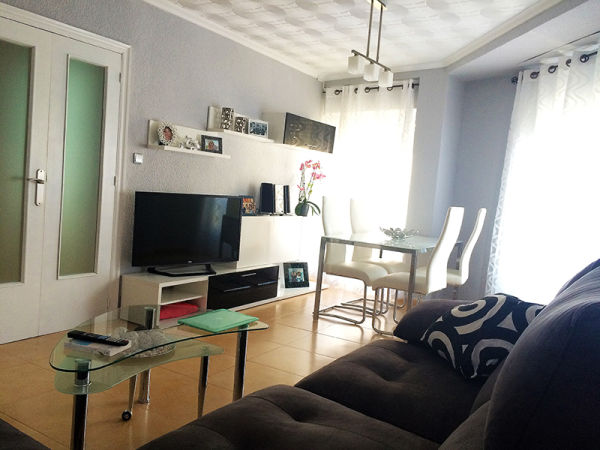 Homestay
A homestay with a Spanish host family is generally the preferred option amongst Top School students, since it is the best way to really feel immersed in the country and its language, not to mention its culture. Besides having the chance to speak Spanish on a daily basis with the family, students will enjoy gaining a deep understanding of what Spanish family life is truly like. All our host families are carefully-selected by our Accommodation Officer. Our Spanish school students which stay with a host family will be allowed to choose between full-board accommodation (breakfast, lunch and evening meal) or half-board (breakfast and evening meal).
The student will never be placed in a homestay with another student who speaks the same language. Unless the student wishes to share a room with a friend he/she is travelling with, he/she will be assigned a single room.
Residence
Staying in a residence is another one of our foreign students' preferred options. A fantastic location, full board, spacious bedrooms, an amazing multi-cultural atmosphere and excellent service. Hurry up, as places are limited!
Our cosy residence is located in the centre of Elche, opposite the Torre de la Calahorra and the Basilica of Santa María. The Palacio de Altamira is situated just behind, only 50 metres away and the residence is also next to the MAHE museum (Museum of Archaeology and History of Elche). The City Park, the centre of Elche's Palm Grove, is located just beyond the residence. Should you wish to head out for a drink on weekends, there are a wide variety of cafes, bar and pubs nearby.
In addition, the main bus and train stations are situated close by. The school is only a 10-minute walk away, so there is no need to even take the bus, so enjoy the stroll!
Shared apartment
If you are looking for a more independent accommodation option, but do not want to miss the opportunity to meet other international students, shared apartment is ideal for you.
Our modern apartments are situated in a quiet residential area of Elche, with fabulous views of the palm grove, and are only a few minutes away from the city centre by bus.
The residential area where the apartments are located has various common areas that our students can enjoy during their stay with us.
Private studio
If you are an independent person and do not wish to share accommodation during your stay with us, this is without a doubt your best option. Top School has several studio apartments (30m2) which are equipped with everything you need to feel at home. All studios have lift access and are adapted to cater for those students with disabilities.
We can provide different types of studios and apartments so that students can select the one that best suits their needs. All accommodation is fully furnished and equipped with all the necessary household appliances to ensure students are comfortable at home. Furthermore, as with all our accommodation options, the studios are cleaned and beds changed weekly.
Our apartments are dotted around the city, yet the majority are located within walking distance of the school.
Hotel
Hotel accommodation in the city can also be arranged if required. Top School agents will find our students well-located, 3 to 5-star hotels in the city that are within easy reach of the school. The price of each hotel will vary according to its rating. To find out more about this type of accommodation, contact Top School for more information.
Information about the activities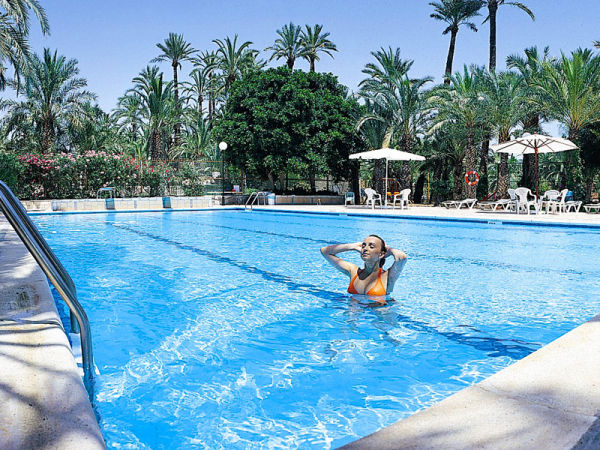 Top School organises a wide range of social and cultural activities that are an essential part of learning Spanish as a second language. These activities provide a better immersion in the native speakers' culture, customs and social life. A unique opportunity to make new friends and practice your Spanish in a more functional way.
Elche is a Mediterranean city with an excellent weather during most part of the year. Not far away from the historical centre, the beaches, and with them, a wide range of water activities and sports to practice. If you are interested in learning Spanish while enjoying a wide range of activities at the Spanish coast, Elche will not disappoint you.
Information about certificates
Instituto Cervantes since 2013FEDELE, FEDELE CV since 2015