Urbanización Tancat l'Alter, s/n
46220

contact information
Ausiàs March is a non-profit private teaching organisation, declared of social interest by the Spanish Ministry of Education and the Valencia Region's Ministry of Education. Its aim is training at all educational levels and it has thirty years of experience running Courses on the Spanish Language, Culture and Civilisation.
Information about the school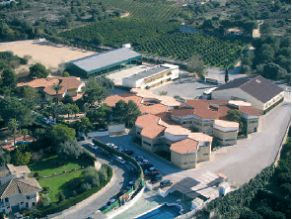 Ausiàs March has three schools to meet the diverse interests of student training. On the one hand, the Colegio Internacional Ausias March (Picassent, Valencia): an area of ​​over 20,000 square meters which houses four modern buildings and wide superbly equipped sports facilities: gym, tennis, basketball, football, swimming pool, solarium, terraces...
On the other hand, the Ausiàs March European Training Centres, two premises in the city centre, with a comfortable and quiet environment, particularly suitable for adult students interested in highly intensive Spanish courses. All Ausiàs March teachers are qualified in teaching Spanish as a foreign language.
In addition, the Spanish Department of its centres dedicates much of its work to search for new really intensive methods for achieving high levels of learning in the shortest time possible.
Tourist Zone: Valencia Terra i Mar.
Location: urban downtown and outside the town.
Languages: English, French, German, Portuguese and Italian.
Activities: tourism, sports, leisure and culture.
Information about the course
The field of these Spanish courses has been diversifying throughout the years with the aim of being able to offer interesting options to all types of learning needs.

Full-time intensive course: from September to June. For students, companies, professionals, executives and for teachers of Spanish as a foreign language.

Summer and Easter intensive course: during April, July, August and September. At intermediate and upper levels, students can take part in a wide range of conferences, symposia and discussions about the Spanish culture (film, art, history, literature...).

Spanish language and sports course: learning with specialist montors in tennis, horse-riding, golf and football. Individual private courses.

School integration courses (long): Academic Year (minimum duration three months). At our Picassent school centre, with students who are Spanish.

School integration courses (short): Mini-stays: integrated groups at our Picassent school centre with students who are Spanish and tourist outings.

Professional practice sessions in businesses: to learn and brush up on Spanish, at the same time as acquiring work experience.
Information about accommodation
Their students are surveyed at different times of their stay to know the degree of satisfaction with teir accommodation. Furthermore, a responsible person from the school receives students at the point of arrival and accompanies them to their accommodation.

Host families: Ausiàs March carefully selects host families for the student to find the maximum comfort and safety. With this option, students can learn how a Spanish family lives and practice the language outside class hours.

University dormitory: modern and comfortable facilities.

Hotel: Ausiàs March has special rates available for students.
Information about the activities
Ausiàs March has a programme of cultural and tourist activities and coexistence. It supports the development of all courses so that they are as effective as possible and help students to get to know Spanish culture better.
Information about certificates
AUSIAS MARCH Instituto Cervantes

UNE-EN ISO 9001:2000

QUALITY MANAGEMENT SYSTEM ISO 9001:2000

FEDELE - AMEELE