Paseo Facultades, 3
46021

contact information
Valencia is Spain's third largest city and has experienced a cultural renaissance in recent years. Located on the Mediterranean coast, it has everything from pristine beaches to fascinating architecture, a world-class soccer team and a nightlife that lasts 'til dawn. It's a wonderful place to learn Spanish because although it's a big city, it still has a small town feel that makes foreigners feel at home.
Information about the school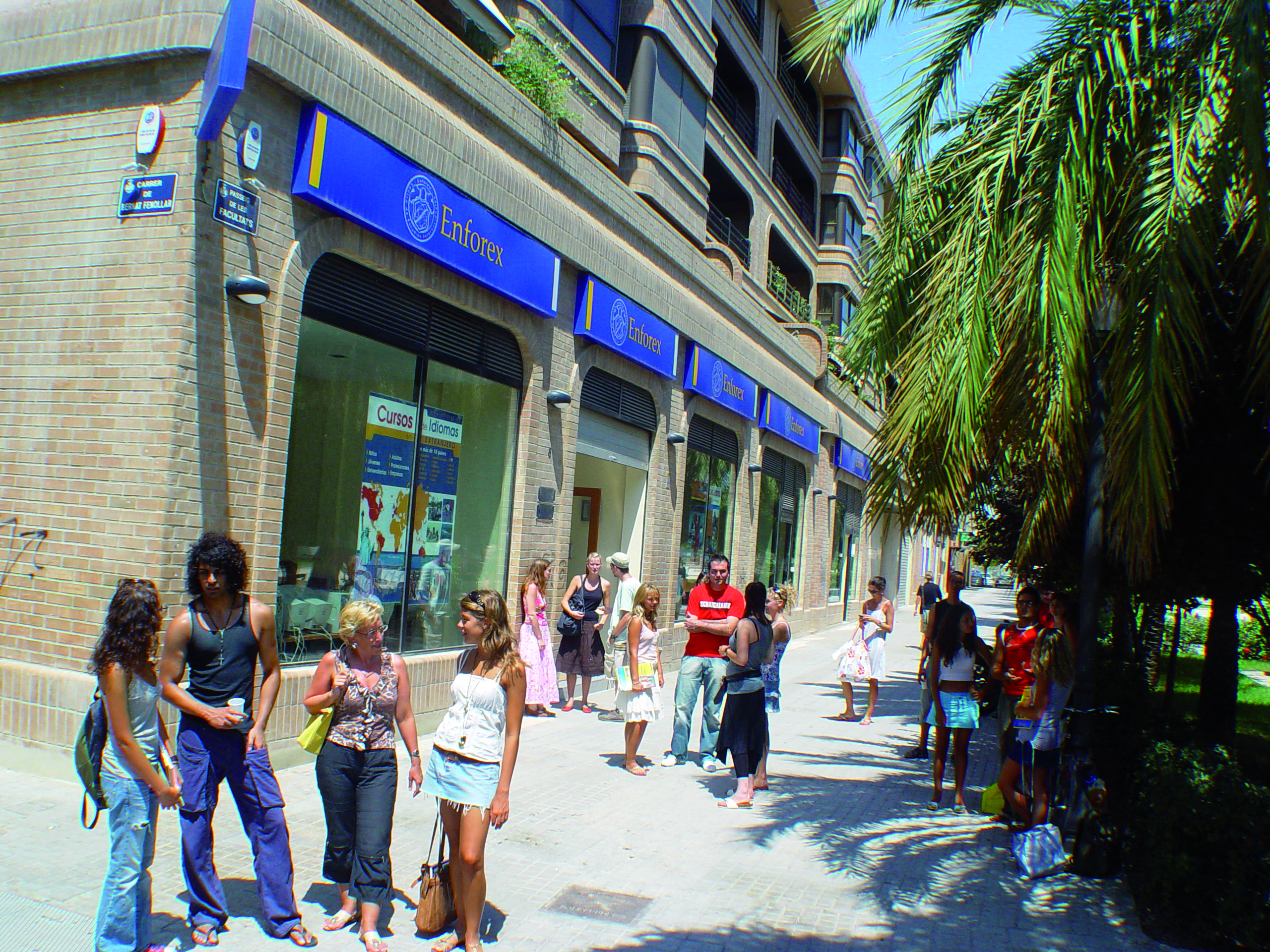 Enforex Valencia is placed in a modern building with capacity for 600 students. It's perfectly equipped with all the necessary facilities to teach a language and with 24 spacious classrooms. It also has a multimedia room, Wi-Fi Access, library, study and reading area and a room with TV, music equipment and games. In front of the school there is a wide green area. In the school there is a great multicultural atmosphere and you will not only learn Spanish, but also live the real university atmosphere of the city. In fact, some of the students in Enforex Valencia are Spanish students learning other languages, a fact that only increases the possibility of practicing Spanish after the classes. Our teachers' team is specialized in teaching Spanish to foreign students and has lots of experience in this kind of teaching.
Tourist area: Valencia, Terra i Mar.
Location: University zone.
Languages: English, German, French, Chinese, Japanese, Russian, Korean, Portuguese, Italian, Dutch, Bulgarian and Slovenian.
Activities: tourism, leisure and culture.
Information about the course
There are six different levels, from beginners until expert level. Number of students: max. 10 Each class lasts for 55 minutes.

Intensive and super intensive courses: 10, 20, 20+5, 25+5 classes per week. The +5 option includes a class of Spanish art, culture and history.

Long term course: over 12 weeks. Semester or academic year abroad: over 20 weeks.

Learn Spanish while travelling: this program offers the opportunity of completing the intensive course while travelling to as many Enforex schools as the student wants.

Spanish courses with specific purposes.

Private classes: small groups with personalized content.

Spanish courses for groups: minimum 8 students. Preparation course for DELE exams.

Christmas in Spain: from 1 to 2 weeks. 20 hours a week and cultural activities.

Spanish courses for professionals.

Private classes for professionals.

Spanish business course and Chamber of Commerce test.

Spanish internship in companies.

Courses for Spanish teachers.

Spanish for young people: junior intensive course (for 14 years and over). High school programs (for 13 years and over). Holiday camp in Valencia (between 13 and 18 years).
Information about accommodation
Host families: families have been carefully chosen by the school. The student can choose between full and half board.

Shared flats: you will be sharing flat with other students. There's no meal service but all apartments have a kitchen. Individual room, double room, double room for individual use and triple room.

Apartments: the students have the opportunity of booking one-room apartments or private studio apartments for one or two.

University halls: spacious residences, with a higher availability in summer.

Enforex residences: smaller residences with students from all around the world. They offer meal services in a full or half board service as well as laundry service.

Family residences: small residences run by a family who takes care of preparing the meal for students.

Residences without meal service: although meals are not included in this kind of residence, there is a common kitchen and a laundry area for the students.
Information about the activities
Enforex Valencia offers a wide range of activities after the classes, from which we could point out visiting the Ciudad de las Artes y las Ciencias, a guided tour through the city of Valencia, a visit to the museum of the "fallas" and Spanish film night. The language school organizes weekend excursions to Ibiza, Madrid, Barcelona and numerous beaches in the province of Valencia, as well as a trip to Buñol, where you will be able to enjoy the traditional festivity of the "Tomatina" (in August).
Information about certificates
- Instituto Cervantes (Spain) - AMEELE (Spain) - FEDELE (Spain) - CSN (Sweden) - Bildungsurlaub (Germany)